Every enterprise is so different one from another. Even between two competitors in the same trade, there is a uniqueness to be found. We always seek to identify what sets the client apart from the competition and then design web sites to effectively communicate their selling message.
---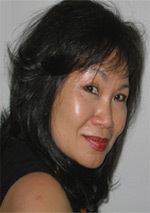 "Long gone are the days when creating a web site is about posting information and pictures on the Internet.
At the pace the business environment is reshaping itself today, it takes more than a 'bulletin board' to stand out in a crowd. We are sure you will agree with us.
We are in the business of helping clients turn their web sites into effective marketing tools and channels of interaction and communication with their customers and business partners. If this is what you need done for you, let's talk."
Susan Sin
Founder & President

---
Trained in London, England, Susan began her career as a copywriter in Singapore, where she also served as editor for several magazines in the building and construction industry. Prior to starting up Above-The-Cloud iBusiness Solutions, Susan enjoyed a long-standing career in international marketing and brand management, travelling widely in Asia, Europe and the US, where she worked closely with designers, engineers and architects.
Launching ATC in the year 2000 was an intuitive transition from traditional to new media, where Susan successfully leads her production team of innovative programmers whose technical expertise include CSS, HTML, DHTML, SHTML, XML, Java Script, Java, ASP, C++, Cold Fusion, CGI (Perl), PHP, SQL, AJAX, Sound Creation/Editing (wav, midi, ra), Video Creation/Editing (MPEG, avi, ra), Flash/Shockwave Creation/Editing, Search Engine Optimization, as well as classic and digital artists, graphic designers, animators, video-editing and post-production specialists.